It's another fun Thursday once again! It's Nostalgia time! Thanks to sis Rose for creating this nostalgic meme. Here's my entry for this week.
This was taken during my visit to Betis, Pampanga Philippines. I was on sophomore in college when this photo was taken. My big brother owns 10 white rabbit. I know it's a lot. And they eat like pigs too.  He loves rabbit ever since when we're little. I'm not fond of rabbits though, I prefer guinea pigs instead.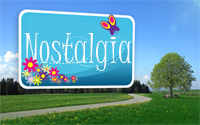 For more entries or would like to join us, just click the button above.