It's another fun Thursday once again! It's Nostalgia time! Thanks to sis Rose for creating this nostalgic meme. Anyhow, here's my entry for this week.
Photo was taken 3 years ago. It was during my 24th birthday. I had a simple celebration with husband and daughter. We went out to eat at a Mexican grill restaurant, went home and ate an ice cream cake from baskins and robins. It was a lovely treat from hubby.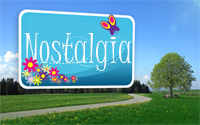 For more entries or would like to join us, just click the button above.