It's another fun Thursday once again! It's Nostalgia time. Thanks to sis Rose for creating this nostalgic meme. So here's my share for this week. My FUJIFILM Finefix s1500 digital camera. I called it my "semi -SLR camera". I bought it less than a year ago from my blogging money. It's my 4th digital camera and one of the best I have, but I have to let it go because I'm upgrading to a real DSLR camera.
This camera takes great pictures. You just have to know how to use it.
And now I am going to sell it for $180.00 plus FREE shipping with all the accessories included….waaaaa! It's your gain! I feel so sad letting this camera go….:(
It's still look brand new to me. I like the features of this camera. You can change it to black/white & sepia. Overall, it's a nice camera and easy to use.
This baby is looking for a new mami….ehhehhehe! I'm going to miss you sweetie!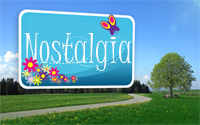 For more inspiring and interesting entries, just click the button above.