It's another fun Thursday once again! It's Nostalgia time. Thanks to sis Rose for creating this nostalgic meme.  By the way, I would like to congratulate sis Rose and John on their 7-year of happiness…congratulations both! Way to go!!! Anyhow, here's my nostalgic entry for this week…a folding chair set.
Another souvenir I bought from my blogging money.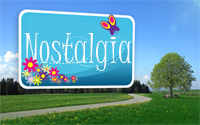 "Your post could be anything that reminds you of a place, somebody, or something such as Old pictures, souvenir from friends, family, or place that you visited, experience or story. There will be no theme for this meme (your options are unlimited) so it is up to you what kind of entry do you want to post as long as it brings back some memory or a flashback from the past."
For more inspiring and interesting entries, just click the button above.