Did I make it? I think I did! It is 10:10pm here in California…and that means it's still Thursday correct? Sorry badingding for my late Nostalgia entry. My entry for this week is…China Cabinet.
I purchased this China cabinet from my blogging money last January, 2009. Yep, I bought it with my blogging earnings. Don't ask me about the price coz I won't tell you…lol! This is by far the best item we have. Thanks to blogging!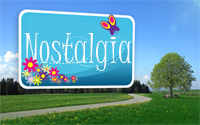 For more inspiring and interesting entries, just click the button above.